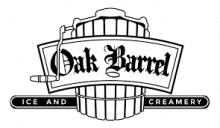 "Valley Sierra SBDC will meet you where you are at. The SBDC has tremendous value for small business owners in HR, Marketing, Quickbooks, and COVID related resources"
More Info:
Website
Oak Barrel Ice & Creamery
Greg Raynes, owner of Oak Barrel Ice Creamery located in Turlock California, came to Valley Sierra SBDC on August 15, 2014 looking for guidance on how to start an ice cream business. Greg had recently retired as a teacher and had a dream of making gourmet ice cream. This dream started as a young boy helping his family hand crank ice cream in Carmel Valley. Greg was connected with an SBDC consultant to assist him with a business plan, build line of credit, open a bank account, and officially launch the business.
Greg was determined to learn everything he could about being a business owner and attended multiple SBDC workshops that would allow him to obtain the necessary information. Alan and Greg worked together creating a business plan and obtaining funds to invest in the business. 
With the assistance of Valley Sierra SBDC Consultant, Alan, Greg officially launched his Gourmet Ice Cream business! From 2015 to 2022, Greg has received funding, made a large increase in yearly sales, and retained 7 employees. He has since invested in a new icecream machine that makes larger batches of flavored icecream in a shorter period of time.