TAX CREDIT SEMIAR OPPORTUNITY STANISLAUS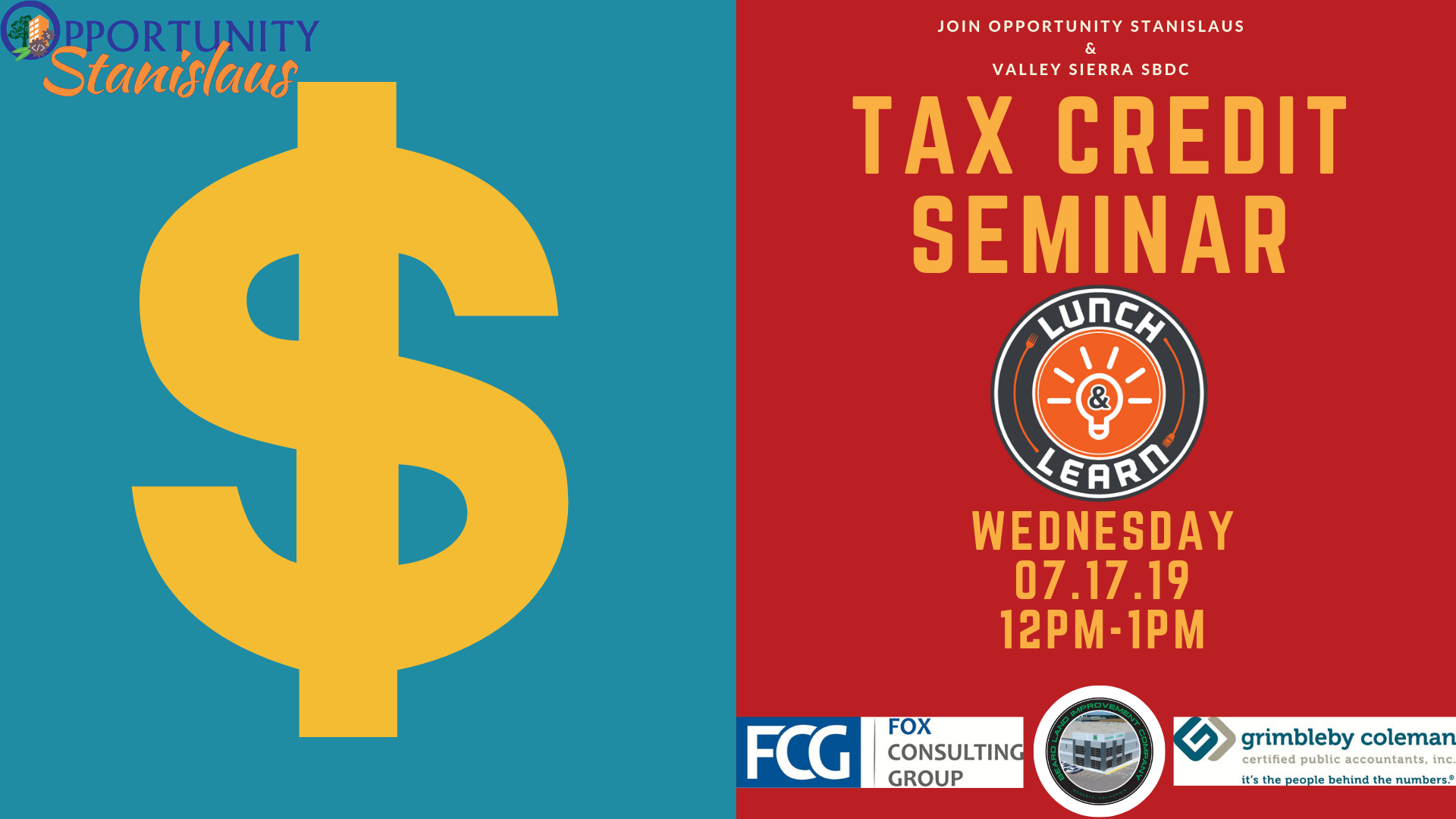 Wednesday, July 17, 2019 -

12:00pm

to

1:00pm
Presentation by Fox Consulting Group's John Langreck
Have you:
❑ Paid any federal or state income tax?
❑ Devoted time and resources to product development or process improvements?
❑ Hired employees or anticipate hiring?
❑ Located in a Designated Geographic Area?
❑ Sold assets resulting in capital gains?
❑ Purchased real or personal property in California?
❑ Conducted third-party or in-house training?
If you answered "Yes" to any of the above, plan to attend this seminar. Tax credit and incentive programs offer significant savings opportunities, but are rarely utilized. Fox Consulting Group (FCG) will help you take advantage of these federal and state programs to offset your current year tax liability and reclaim taxes previously paid.
FCG is a consulting firm with a team of attorneys, CPAs, engineers, and IT professionals who are uniquely qualified to maximize credit claims and act as advocates for its clients on all tax matters. The FCG client base ranges from publicly traded corporations with multistate operations to small, family-owned businesses. They determine eligibility at no cost and provide hundreds of free consultations every year. FCG clients also pay nothing until a benefit is realized.
Featured Guest
About John Langreck:
Mr. Langreck is the founding member and Principal at FCG. He has over 15 years of tax and accounting experience with a focus on federal and California tax credits and incentives. Mr. Langreck has extensive experience with the Research and Development (R&D) Tax Credit, the Work Opportunity Tax Credit (WOTC), and California Governor's Office of Business and Economic Development (GO-Biz) tax incentives serving clients in many industries. He has also successfully defended numerous credit claims under audit and examination.
Mr. Langreck previously worked at Arthur Andersen LLP and Pricewaterhouse Coopers LLP. He is a licensed CPA and a member of the American Institute of Certified Public Accountants (AICPA) and the California Society of CPAs (CalCPA). Mr. Langreck earned his M.S. (taxation) at Golden Gate University and his B.S. (accounting) at Wright State University. He serves as a curriculum advisor at UC Davis and has been a board member of several non-profit organizations in the Sacramento area.