Primary tabs
Leading with Purpose: Leadership Strategy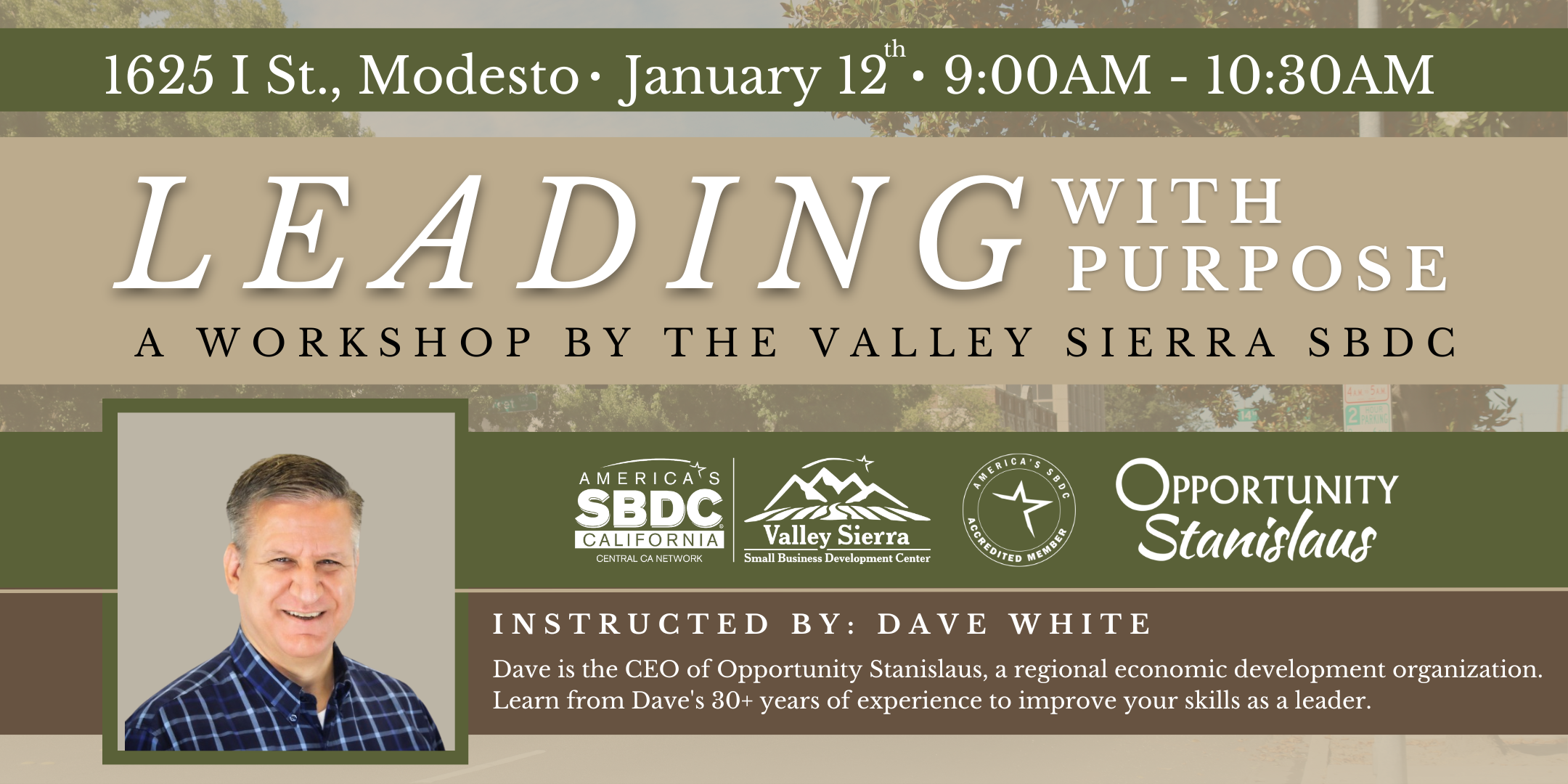 Thursday, January 12, 2023 -

9:00am

to

10:30am
Discover how to lead your team with purpose and strategically reach success in your business through leadership. Without leadership, all business resources are ineffective. Leadership is the major factor that makes everything work together seamlessly, towards a unified goal.
Whether you are looking to increase your leadership skills to grow your business, looking to delegate with a small staff, or strategically plan where your small business will grow, our Leading with Purpose Workshop is for you. Join us for no cost!
During the workshop, we will be covering:
Sharing Leadership - Getting the best out of your staff
Developing Leaders - How can you develop talent in such a way to build your company and make it more successful?
Developing a Results/ Accountability Culture - Things Dave has learned over his career
This workshop is taught by Dave White, CEO of Opportunity Stanislaus, a regional economic development organization. Learn from Dave's 30+ years of experience leading his team to accomplish the organization's mission. Dave has experience in fundraising, sales, strategic planning, marketing, marketing research, and interacting with C-level executives on an international basis. He is a wealth of knowledge, and you can benefit from it. 
Join us to take your leadership to the next level and reap the benefits of increased organizational morale, effective communication, employee motivation, and company growth. Register today! 
DATE: Thursday, January 12th
TIME: 9:00AM - 10:30AM
LOCATION: Opportunity Stanislaus- 1625 I St., Modesto, CA
REGISTER: bit.ly/vsleadership
Workshop is presented by Valley Sierra SBDC and its host Opportunity Stanislaus.