Oakdale: Sexual Harassment Prevention Training- CA MANDATORY CLASS FOR ALL BUSINESS OWNERS!
Posted On:
Monday, July 22, 2019 - 3:12pm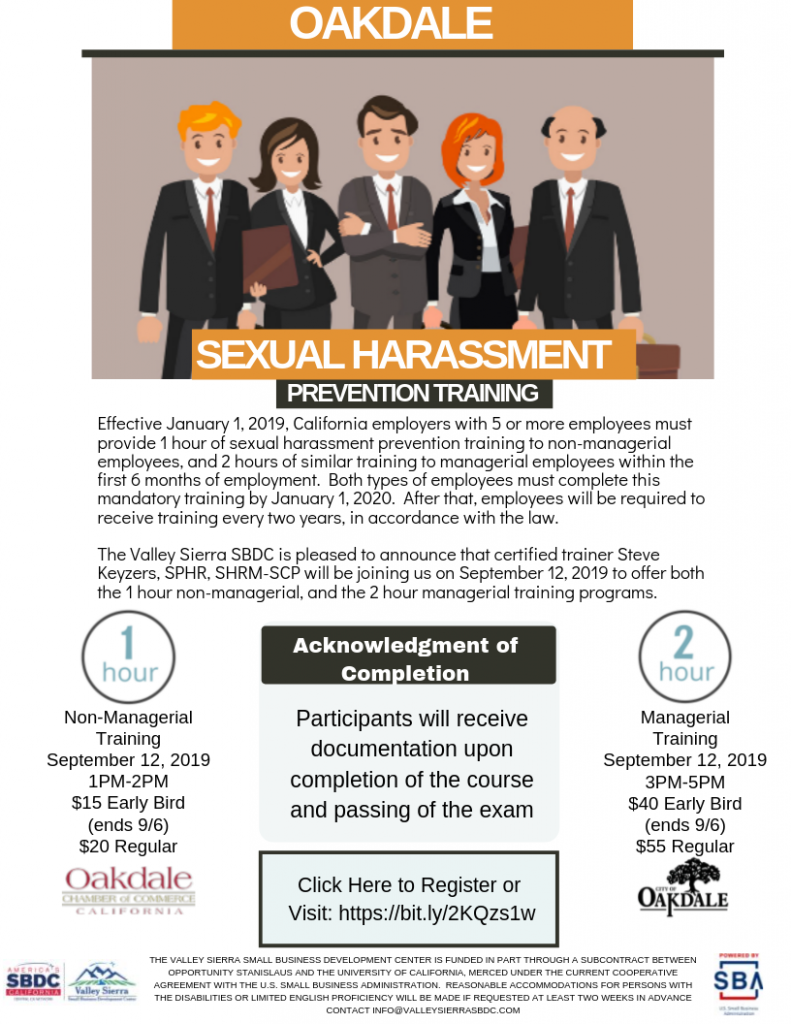 SIGN UP HERE: https://bit.ly/2KQzs1w The Oakdale Chamber of Commerce, City of Oakdale and Valley Sierra SBDC are pleased to announce that certified trainer Steve Keyzers, SPHR, SHRM-SCP will be joining us on September 12, 2019 and will offer both the 1 hour non-managerial, and the 2 hour managerial training programs. Effective January 1, 2019, California employers with 5 or more employees must provide 1 hour of sexual harassment prevention training to non-managerial employees, and 2 hours of similar training to managerial employees. Both types of employees must complete this mandatory training by January 1, 2020. After that, employees will be required to receive training every two years, in accordance with the law.
SIGN UP HERE: https://bit.ly/2KQzs1w
We are offering a discounted rate for both Managerial & Non-Managerial training classes until 9/6/2019. Please select the correct ticket (Managerial vs. Non-Managerial) during registration. The 1 hour Non-Managerial training will take place from 1:00 PM - 2:00 PM. The 2 hour Managerial training will take place from 3:00 PM - 5:00 PM. Please select the correct course you are taking at checkout.
 
Instructions: Please arrive 15 minutes early to allow for parking and to check-in. The class will begin promptly. Please make sure to select which program you are taking. There are two different classes, one for Management level Employees and one for Non-Management level. Pre-sale tickets are available to anyone who wishes to attend before the stated date.