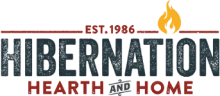 ""Working with the SBDC has made all the difference for our company. While we both have worked for other firms, running a company has been a completely new experience. We had to come up to speed really fast, and Claudia helped us do that... She's helped us learn the "smart way" to do marketing outreach, to learn about our customers, and to respond to what they say they need. She has supported us at every step of the way, and been a resource when we have questions. When we first started working with her, she said her goal was to make us a success story. Thanks to the SBDC, we're looking forward to an even better year than the last." - Elizabeth Joyner, co-owner
More Info:
Website
Hibernation Hearth & Home, Sonora CA
Heartwarming Success
Dale and Marcella Cannon founded Hibernation Hearth & Home in 1986 with a focus on stove service and installation. Today, it is managed by daughter Elizabeth and her husband Dwayne Joyner, who plan to buy the business from her parents.
During its 31-year history, the company has evolved its positioning and product mix to focus on "helping people make their house a home". Their 4,500 sq. ft. showroom features top quality stoves, spas, hearth products, barbecues, home décor and unique gift items. Vendor-certified technicians have installed and service hundreds of Mother Lode region customers, earning a stellar reputation for quality service.
Facing razor thin profit margins that threatened to shutter the company, in 2016 they began working with the SBDC to "reboot" their business.  In one year's time, they modernized their accounting practices to effectively track sales and profits, improved inventory management, ordering and shipping practices, strengthen vendor relationships, and invested in their business to support turnaround.
Part of the reboot included a new approach to marketing efforts. This included a complete redesign of store layout to attract a more diverse audience, create a more engaging customer experience, and better showcase products to improve sales; purchase of new truck and "escalator" for installations to better service clients; hiring and training new staff to accelerate installation and service turnaround times; offering convenient consumer financing to attract more customers for their high-ticket items; and developing and implementing a marketing plan, including new logo, website, and signage, and measuring outcomes of efforts.
Determination to succeed and a willingness to listen and implement new ideas are why Hibernation Home is successful. Elizabeth and Dwayne now adhere to cost-effective marketing in which every activity is carefully developed with explicit goals, associated costs, action items, and measurement of outcomes to determine if it delivered against objectives. Today, the company is looking forward to enjoying ongoing growth and success.
Says Elizabeth, "Working with the SBDC has made all the difference for our company. While we both have worked for other firms, running a company has been a completely new experience. We had to come up to speed really fast, and Claudia helped us do that. She requested and reviewed financial and inventory reports, showed us where problems were as far as tracking, costs, margins and pricing, and not only made recommendations, but explained them so we understood the how and why it was important to implement them. She's helped us learn the "smart way" to do marketing outreach, to learn about our customers, and to respond to what they say they need.  She has supported us at every step of the way, and been a resource when we have questions. When we first started working with her, she said her goal was to make us a success story. Thanks to the SBDC, we're looking forward to an even better year than the last."